Mortimer Folchart



Allias

Relationships

Occupation
Mortimer Folchart is a
Book Lover
, a
Bookbinder
and also a
Silvertongue
. He is a tall man with dark hair and brown eyes. He binds book very well and take care of them. He has a daughter named
Meggie Folchart
from her wife named
Teresa Folchart
whom he lost between the pages of a
book
Biography
Edit
Life as a Bookbinder
Edit
"MORTIMER FOLCHART, BOOK DOCTOR "
—the sign at Mo's workshop door.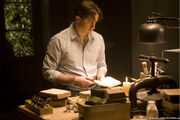 Mortimer is a known Bookbinder because he binds books very well and threat the sick books. This is the way on how he raise his living and to take care of his
daughter
.
Life as a Silver Tongue
Edit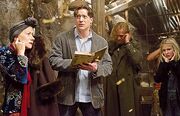 Mortimer is just one of the many
Silvertongue
in the world, but can be considered as the greatest of them all because of his beautiful voice. At first, he don't know that he was a Silver Tongue until he accidentally plucked out the three characters from the
book
that he was reading at that time.
Arrival at Inkworld
Edit
After one year of defeating Capricorn and his men, Mortimer had heard the news that Basta and Mortola are hurrying for revenge and planning to kill all of his family including Dustfinger that had made his way back home to Inkworld with the help of another Silvertongue named Orpheus that stole the book after Dustfinger's returning to home.Meggie was so worried about Dustfinger so she and Farid planned to go inside the book to warn him of Basta so they did their plan.
After Mortola and Basta arrived with Orpheus at Elinor's house, they had found out that the little girl with the devil's tongue is not there, and they found out too that she's inside the book. So Mortola changed the plan, she commanded Orpheus to read them inside the book with Mortimer just to see his feelings on how will he react if he'll see his daughter died.So Oprheus did. Teresa Folchart also acidentally read inside the book too.
After reading them inside the book, Mortola shot Mortimer with her gun that made him almost die.
Accused for being the Bluejay
Edit
Mortimer had been accused as the Bluejay because of his appearances that are really similar to the Bleujay, but the real thing is, he's really the Bluejay. Fenoglio made songs about the a robber that is really similar to Robin Hood, and his model for his Bluejay is Mortimor. Bleujay is described for having a dark hair, brown eyes and a scar on his shoulder by the dogs of The Adderhead. Mortimer also have a scar on his shoulder because of Basta's dog's bite.
Relationships
Edit
Meggie Folchart
Edit
Teresa Folchart
Edit
Elinor Loredan
Edit
Dustfinger
Edit
Behind the scenes
Edit
Apperances
Edit
Community content is available under
CC-BY-SA
unless otherwise noted.